Mary Hitchcock
Position title: Senior Academic Librarian
Email: mary.hitchcock@wisc.edu
Phone: (608) 263-9332
Address:
HSLC Room 2339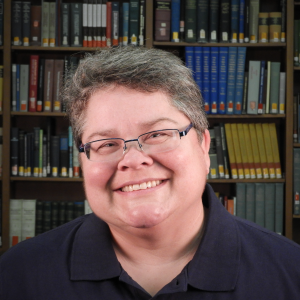 CONTACT
mary.hitchcock@wisc.edu
608-263-9332 (office)
Chat on Teams
Schedule a meeting
LIBRARY RESPONSIBILITIES
School of Nursing Liaison
Kinesiology Liaison
Occupational Therapy Liaison
Clinical Sciences Team
Systematic Review Team
Reference & Instruction
Public Services
CREDENTIALS/EDUCATION
M.A., Library and Information Studies, University of Wisconsin-Madison
M.S., History, Minnesota State University, Mankato (Mankato State University)
B.S., History; Minnesota State University, Mankato (Mankato State University)
 SELECTED PUBLICATIONS/PRESENTATIONS
ORCID: 0000-0002-8254-388X

Hsiao V, Light TJ, Adil AA, Tao M, Chiu AS, Hitchcock M, Arroyo N, Fernandes-Taylor S, Francis DO. Complication Rates of Total Thyroidectomy vs Hemithyroidectomy for Treatment of Papillary Thyroid Microcarcinoma: A Systematic Review and Meta-analysis. JAMA Otolaryngol Head and Neck Surgery 2022 Jun 1;148(6):531-539. doi: 10.1001/jamaoto.2022.0621. PMID: 33055590.
Torres, ER, Tumey, TA, Dean, DC, 3rd, Kassahun-Yimer, W, Lopez-Lambert, ED, & Hitchcock, ME. (2020). Non-pharmacological strategies to obtain usable magnetic resonance images in non-sedated infants: Systematic review and meta-analysis. International journal of nursing studies, 106, 103551. PMID: 32294563
Gouttebarge V, Castaldelli-Maia JM, Gorczynski P, Hainline B, Hitchcock ME, Kerkhoffs GM, Rice SM, Reardon CL. Occurrence of mental health symptoms and disorders in current and former elite athletes: a systematic review and meta-analysis. British Journal of Sports Medicine. 2019 Jun;53(11):700-706. PMID: 31097451
Stillman MA, Glick ID, McDuff D, Reardon CL, Hitchcock ME, Fitch VM, Hainline B. Psychotherapy for mental health symptoms and disorders in elite athletes: a narrative review. British Journal of Sports Medicine. 2019 June;53(12):767-771. PMID: 30944086
DuBenske LL, Schrager SB, Hitchcock ME, Kane AK, Little TA, McDowell HE, Burnside ES. Key Elements of Mammography Shared Decision-Making: a Scoping Review of the Literature. Journal of General Internal Medicine. 2018 Oct;33(10):1805-1814. PMID: 30030738
Alagoz E, Chih MY, Hitchcock M, Brown R, Quanbeck A. The use of external change agents to promote quality improvement and organizational change in healthcare organizations: a systematic review. BMC Health Services Research. 2018 Jan 25;18(1):42. doi: 10.1186/s12913-018-2856-9.  PMID: 2937079
Hitchcock ME, Hooper-Lane C. Searching for evidence. In: Murphy MP, Staffileno BA, Foreman MD, eds. Research for Advanced Practice Nurses: From Evidence to Practice. 3rd Ed. New York: Springer; 2018.
Abiri S, Oakley LD, Hitchcock ME, Hall A. Stigma Related Avoidance in People Living with Severe Mental Illness (SMI): Findings of an Integrative Review. Community Mental Health Journal. 2016 Apr;52(3):251-61. PMID: 26668008
Torres ER, Strack EF, Fernandez CE, Tumey TA, Hitchcock ME. Physical Activity and White Matter Hyperintensities: A Systematic Review of Quantitative Studies. Preventive Medicine Reports. 2015;2:319-325. PMID: 26046015
Land D, Sullivan-Fowler M, Hitchcock M. University of Wisconsin School of Medicine and Public Health: a century of inspiration. WMJ. 2008 Feb;107(1)12-14. PMID:18416363
Hitchcock ME, Schneider JA. Paul F. Cranefield, M.D. PhD.: a catalog of a physician and bibliophile. Madison, WI: Ebling Library, University of Wisconsin, Madison,; 2007.